State Championship
GHSA Gymnastics State Championship
When
April 26, 2013
Where
The Westminster Schools
1424 W. Paces Ferry Rd. NW
Atlanta, GA 30327
Schedule
Competition starts at 7:00pm
Tickets
$7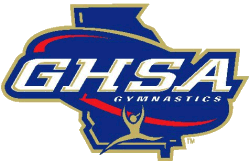 Twitter and Facebook Feeds
OfficialGHSA: AA Baseball State: #Lovett vs. #Westminster on May 25, 27. http://t.co/o39sYE9enQ

OfficialGHSA: RT @WSAVBlitz: 9-2 the final. Lovett over Benedictine. #ghsa.

OfficialGHSA: View start times for 3A-6A Baseball State Championships pres. by #Mizuno. http://t.co/vJYHO43xOb

OfficialGHSA: RT @scoreatlanta: Roswell at Milton Game 1 will be played at 4:30 Sat. @OfficialGHSA

OfficialGHSA: 4A Baseball State: The start time for #Redan at #Marist series will be Mon., May 27 at 3:00 pm.