Ware Among Those Honored with NFHS Speech, Debate, Theatre and Music Educator Awards
INDIANAPOLIS, IN — A total of 42 high school speech, debate, theatre and music teachers and coaches have been selected as recipients of awards from the National Federation of State High School Associations (NFHS).
The NFHS Speech, Debate, Theatre and Academic Association is honoring 20 individuals with the 2020-21 Outstanding Speech/Debate/Theatre Educator Awards, and the NFHS Music Association is honoring 22 individuals with the 2020-21 Outstanding Music Educator Awards.
Seven of the 20 speech/debate/theatre awards are section awards, and the other 13 are state awards. Section recipients receive a plaque from the NFHS to be presented in their respective state, while state award recipients receive a certificate. Likewise, seven music section awards will be presented, along with 15 state award recipients.
Recipients of the 2020-21 NFHS Outstanding Speech/Debate/Theatre Educator Awards are:
SECTION: Section 2 – Molly Seifert, Kentucky; Section 3 – Pamela Ware, Georgia; Section 4 – Holly Stanfield, Wisconsin; Section 5 – Gary Harmon, Kansas; Section 6 – Magda Irizarry-Mirelez, Texas; Section 7 – Tanya Roundy, Utah; Section 8 – Kara Smith, Idaho.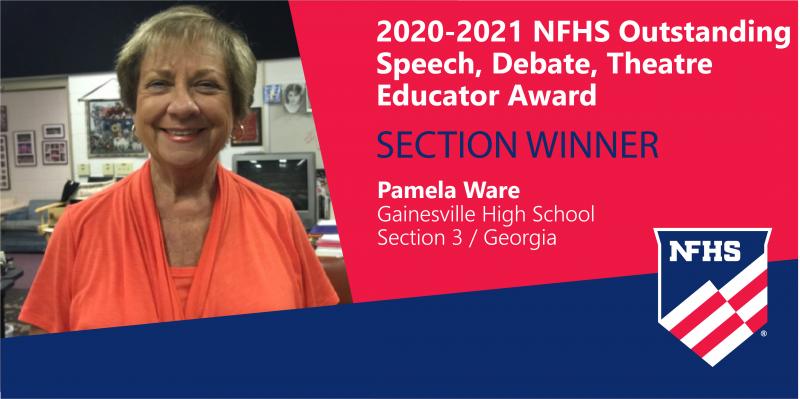 Pamela Ware
Gainesville, Georgia        
Pamela Ware has been director of theatre and debate coach at Gainesville (Georgia) High School for the past 45 years after beginning her career in education as an English teacher and director of theatre in Selma, Alabama. She is truly a living legend at Gainesville High and has developed annual winning programs in One-Act Play and Literary for many years.
            Ware has served on the Georgia Thespian State Board since 1975 and was president of the Alabama Thespian Association for three years in the 1960s. Ware has also been active in the Educational Theatre Association, serving on the Board of Trustees for 17 years as well as a term as president. She established the First International Troupe at Gainesville High School in 1975.
            Ware received the Louisiana Tech College of Education Alumna of the Year award in 2015 and was a Louisiana Tech University Centennial Distinguished Alumnus in 1994. In December 1994, the Pam Ware Performing Arts Center was dedicated in Gainesville.