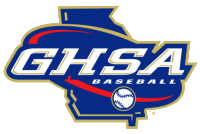 Finals Team Instructions
Download Team Instructions
When
May 24-27, 2017 
Where
Grayson Stadium
Home of Savannah Bananas
1401 E. Victory Dr.
Savannah, GA 31404
(912) 712-2482 (contact: Marie Gentry)
Stadium Info 
Stadium directions
State Mutual Stadium
Home of Rome Braves
755 Braves Boulevard
Rome, GA 30161
(706) 378-5113 (contact: Christina Shaw)
Stadium Info
Results / Schedule (revised 5/27/17)
Class 7A
Etowah 4-5, Woodstock 1-4
Class 5A
Loganville 3-3, Wayne County 0-2
Class 4A
Marist 1-7-4, Blessed Trinity 11-2-3
Class 3A
North Hall 9-6, Pierce County 2-0
Class 2A
Jeff Davis 4-7, Elbert County 1-6
Class A Public
Schley County 6-12, Gordon Lee 0-3
Class A Private
Savannah Christian 5-5, Tattnall Square 2-4
Monday, May 29, 2017
In Rome
Class 6A
11:00 am - Pope vs. Lee County, doubleheader
If a third game is needed, it will be played on Tuesday, May 30 at 6:00 p.m., at Mercer University in Macon.
Tickets
$12 per day ($7 single "if" game). Buy digital tickets on your mobile phone at GoFan. Rome Braves & Savannah Banana box office staffs have "walk-up" hard tickets available only.  Digital tickets are exclusively sold on GoFan. The 6A championship series or any games rescheduled due to weather that have already been purchased on GoFan will be honored on the rescheduled dates, as long as the mobile tickets have not been validated.
Event Program
Produced by ScoreAtlanta.  Free to fans at venue.
Click here for Rome program 
Click here for Savannah program
Video
Spread the word. Family, friends and fans can watch all games Live at NFHSNetwork.com/GHSA.  Subscription to the Network for an all-access pass is the low price of $9.95 per month per 30 days. DVDs can also be ordered at NFHSNetwork.com. NFHS Network - High School Happens Here!
Merchandise
State championship merchandise will be available on site by Team IP.
Brackets
Click here