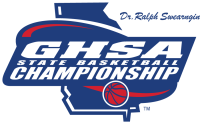 When
March 7-10, 2018
 
Championship Schedule
Wednesday, March 7 - Macon Centreplex
AA  Girls (Laney 63, Josey 40)
AA Boys (Thomasville 66, Vidalia 31)
A Public Girls (Greenville 73, Marion County 52)
A Public Boys (Wilkinson Co. 71, Montgomery Co. 68)
Thursday, March 8 - Macon Centreplex
AAASP Wheelchair Game (Houston County 36, West Georgia 27)
AAA Girls (Johnson-Sav. 62, GACS 50)
AAA Boys (GACS 67, Jenkins 53)
AAAAA Girls (Buford 60, Flowery Branch 49)
AAAAA Boys (Warner Robins 67, Miller Grove 64)
Friday, March 9 - Georgia Tech
A Private Girls (Wesleyan 61, Holy Innocents' 44)
A Private Boys (Aquinas 65, St. Francis 60)
AAAAAA Girls (Lovejoy 57, Harrison 41)
AAAAAA Boys (Hughes 85, Gainesville 78)
Saturday, March 10 - Georgia Tech
AAAA Girls (Spalding 58, Henry County 46)
AAAA Boys (Upson-Lee 70, St. Pius 54)
AAAAAAA Girls (Westlake 60, Newton 45)
AAAAAAA Boys (Meadowcreek 56, Norcross 43)
Tickets
$15. Pre-event tickets for Championship Finals (GT) can be purchased on 
GoFan
.  Tickets purchased on GoFan must be presented on a smart phone for entry.
Video
Spread the word. Family, friends and fans can watch all Semifinal and Final games Live at 
NFHSNetwork.com/GHSA
.  Subscription to the Network for an all-access pass is the low price of $9.95 per month per 30 days. DVDs can also be ordered at 
NFHSNetwork.com
. NFHS Network - High School Happens Here!
Live Stats
Merchandise
State championship merchandise will be available on site by
Team IP
.
Sports Medicine
Sports medicine coverage provided by Sports Medicine South and Gwinnett Medical Center.