Submitted by
webmaster
on Tue, 02/19/2019 - 9:07pm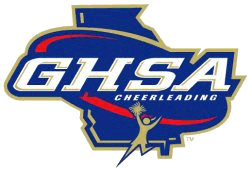 GHSA is offering a new competition in cheerleading called Game Day, in partnership with Varsity Brands, Inc. This event will be held on February 22 at a site to be determined. Admission is $12 per person.
The divisions will be A-3A, 4A-5A, and 6A-7A. Teams will compete in areas they use to lead a crowd at a game on "Game Day" at a football or basketball game. There are three segments on which they will be judged: cheer, band chant, and fight song. The teams scoring the highest in these three segments will be the finalists and will then combine all of these areas in an additional three-minute routine. 
When
Where
Tickets
$12 per person
(Cash Only)
Schedule
Game Day Performance Order - TBD
Meet Info
Merchandise
Varsity Brands will have event merchandise available.
Event Tickets
This event will run in two sessions. Session One will be schools in 1‐5A and Session 2 will be schools in 6‐7A. The gym will be cleared between sessions. If you would like to stay for the second session you will not have to pay again, but you will be required to line up outside and re‐enter with the spectators from the next session. Below is some information for each session. All tickets are CASH ONLY. *Please note that there is not an ATM within 10‐15 miles of the school. Please plan accordingly*
Session One:

Please do not arrive prior to 7:00 am
Doors will open at 7:30 am

Session Two

Please do not arrive prior to 1:30 pm
Doors will open at 2:00 pm
Event Ticket Prices
Adult: $12.00 *CASH ONLY
Wristbands will be given to spectators so that they can come and go during the event. We do ask that you have your wristband on your wrist.
Concessions
Concessions will be offered at this event. Concessions will be CASH ONLY, credit/debit cards or personal checks will be NOT accepted.
Varsity Shop
There will be an event t‐shirt & sweatshirt available, as well as additional items, for purchase through the Varsity Shop. This shop will be able to accommodate CASH & CREDIT CARD (No Checks will be accepted.)
Seating
When you arrive for the event, sides of the gym will be labeled with either A or B. The teams will perform facing the same side all day, so you as spectators will not have to move at any point during the day. Here is the information on where to sit to ensure you see the correct team.
Session One

Side A: 1A through 3A
Side B: 4A through 5A

Session Two