Submitted by
webmaster
on Tue, 02/04/2020 - 10:31am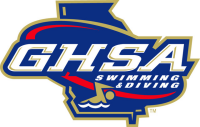 The 2021 GH
SA Swimming & Diving State Championships will be held Feb. 2-6 at the Georgia Tech Aquatic Center.  Due to COVID-19 restrictions at the venue, NO SPECTATORS WILL BE ALLOWED TO ATTEND. In addition, no members of the Media will be allowed inside the venue.
All swimming and diving finals will be streamed live on NFHS Network to any device for the one low price of $10.99 good for 30 days of unlimited viewing.
There are scoring divisions for each meet (6A and 7A in the 6-7A session, and 1-3A and 4-5A in the 1-5A session). Teams will score points against teams in their scoring division only. The top three (3) male and female teams and individuals in each scoring division will be recognized and receive team trophies and medals for their performances
When
Where
Tickets
Due to COVID restrictions at the venue,
NO SPECTATORS WILL BE ALLOWED!
In addition, NO MEDIA WILL BE ALLOWED!
Schedule
Live Results
Download "Meet Mobile: Swim" app for Android & IOS devices
Fan Guide
Digital fan guide available for download. Produced by ScoreAtlanta.
Video
Family, friends and fans can watch all the finals Live at NFHSNetwork.com.  Subscription to the Network for an all-access pass is the low price of $10.99 per 30 days unlimited viewing. Digital downloads / DVDs are available to order here. NFHS Network - High School Happens Here!
Sign Up For Action Photos Online
For the ninth straight year, River Oak Photography is thrilled to provide action photography for the GHSA State Swimming and Diving Championships. Due to COVID-19 precautions, all reservations for photography must be made in advance online at 
riveroakphotography.com/reserve-online/ghsa/
. Please contact 
orders@riveroakphotography.com
 with any questions.