Submitted by
webmaster
on Fri, 07/05/2013 - 4:22pm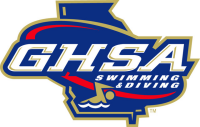 The 2020 GH
SA Swimm
ing & Diving State Championships will be held Feb. 6-8 at the Georgia Tech Aquatic Center.  Tickets are $15 per day at the venue. Digital tickets on your mobile device are available at GoFan. All swimming and diving finals will be streamed live on NFHS Network to any device for the one low price of $10.95 good for 30 days of unlimited viewing.  
There are scoring divisions for each meet (6A and 7A in the 6-7A session, and 1-3A and 4-5A in the 1-5A session). Teams will score points against teams in their scoring division only. The top 3 male and female teams and individuals in each scoring division will be recognized and receive team trophies and medals for their performances
When
Where
Tickets
Schedule
Live Results
Team Information
State Meet Handbook  
State Qualifying Times 
Proof of Performance 
2020 GHSA 1-5A State Meet Psych Sheet         
2020 GHSA 1-5A State Meet Entry List
2020 GHSA 6-7A State Meet Psych Sheet         
2020 GHSA 6-7A State Meet Entry List
Event Program
Digital program with live results available on GHSA.net.  Free championship handout available at venue. Produced by ScoreAtlanta. 
Video
Spread the word. Family, friends and fans can watch all the finals Live at NFHSNetwork.com/GHSA.  Subscription to the Network for an all-access pass is the low price of $10.95 per month per 30 days. DVDs can also be ordered at NFHSNetwork.com. NFHS Network - High School Happens Here!
Merchandise
State championship merchandise will be available on site by Team IP.
Photos
To order photos from the Diving State Championships, visit riveroakphotography.com/action/signup/ . The online form is the only way to sign up for photos from Diving event. Swimming photos will be available to order through sign-ups at the River Oak Photography table at the Georgia Tech Aquatic Center. Online photo pre-orders are also available through 5pm on Thursday, February 6 at riveroakphotography.com/reserve-online/ . Write to orders@riveroakphotography.com with questions.