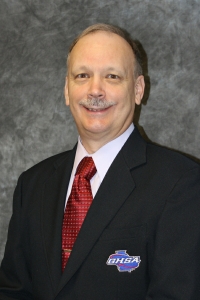 Director of Media Relations
Steve's duties include acting as liaison with the media representatives as they cover the various GHSA events, especially during the playoffs. Steve also is responsible for much of the content on the GHSA web site, as well as publishing the GHSA newsletter, Constitution & By-Laws and Calendar. He serves as the sports coordinator for Tennis.
Steve came to the GHSA in 2001 after spending most of his professional career in journalism. Born and raised in Atlanta, Steve currently resides in Griffin with his lovely bride, Victoria.
After graduating from Avondale High School and Georgia Tech, Steve spent the next 28 years in journalism. Although he worked for the Gwinnett Daily News, the Marietta Daily Journal and the Gwinnett Daily Post, Steve is mainly known for being the High School Sports Editor of the Atlanta Constitution for 15 years.
During his career, Steve received several awards for his writing, including two merit awards from the Associated Press, certificates of appreciation from both the Georgia Athletic Coaches Association and the Georgia Athletic Directors Association and a lifetime appreciation award from the Atlanta Touchdown Club.
Steve also received the Al Ceraldo Media Award from Georgia Tech as well as the Tipoff Citation from the Atlanta Tipoff Club, both for "outstanding contributions to basketball" in Georgia.
Steve founded and published the Georgia High School Football magazine from 1992-2000. The publication is still produced to this day by current owner/editor David Patterson.
Steve and Victoria enjoy going to the beach, gardening at home and taking care of their national award winning Persian cats.