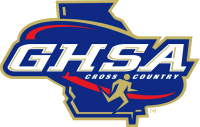 The 2017 GHSA Cross Country State Championships, presented by Atlanta Track Club, will be held November 3-4 at the Carrollton Course. Defending champions are: boys - Lambert, Alexander, Clarkston, St. Pius, East Jackson, Bleckley County, Georgia Military College and Landmark Christian; girls -  South Forsyth, Harrison, Woodland-Cartersville, Marist, Westminster, Bleckley County, Towns County and Landmark Christian (10).  View complete past state champion history: Boys & Girls   Live results will be available online by Perfect Timing Group.  
When
November 3-4, 2017 (All Classes)
Where
Carrollton Course
Carrollton High School
202 Trojan Drive
Carrollton, GA
Tickets
$5.00 per person. Buy digital tickets on your mobile phone at 
GoFan
.
Meet Results
View "live" State Meet Results by Perfect Timing Group by
clicking here.
Coaches Handbook
Download the the latest version of the 2017 GHSA Cross Country Coaches Handbook - TBA.
Merchandise
State championship merchandise will be available on site by Team IP.
 
Friday November 3
9:00 - 5A Boys
9:45 - 5A Girls
10:30 - A Private Boys
11:15 - A Private Girls
12:00 - 7A Boys
12:45 - 7A Girls
Saturday November 4
8:00 - 2A Boys
8:45 - 2A Girls
9:30 - 3A Boys
10:15 - 3A Girls
11:00 - 4A Boys
11:45 - 4A Girls
12:30 - 6A Boys
1:15 - 6A Girls
2:00 - A Public Boys
2:45 - A Public Girls