The 2019-20 GHSA Student-Athlete Advisory Council had its first meeting on August 27 at the Georgia Sports Hall of Fame in Macon.
The Council is made up of 20 student-athletes from across GHSA's 463 member schools. These students submitted applications last spring and were chosen by a panel who scored their applications based on answers to five questions.
The focus continued with last year's topic of sportsmanship. In addition, the council discussed ways to aid in anti-bullying. They talked about tactics to take back to their schools in areas of social media in the school setting.
They also revisited the idea of  forming an athletic leadership team within their schools where two members of each athletic team would represent each sport/competitive activity and help teams learn to support each other. Some of these schools already have this in place.
For more information on the Student Leadership Advisory Council, contact Penny Pitts Mitchell in the GHSA office at pennypitts@ghsa.net or Tanya Anderson at tanyaanderson@ghsa.net.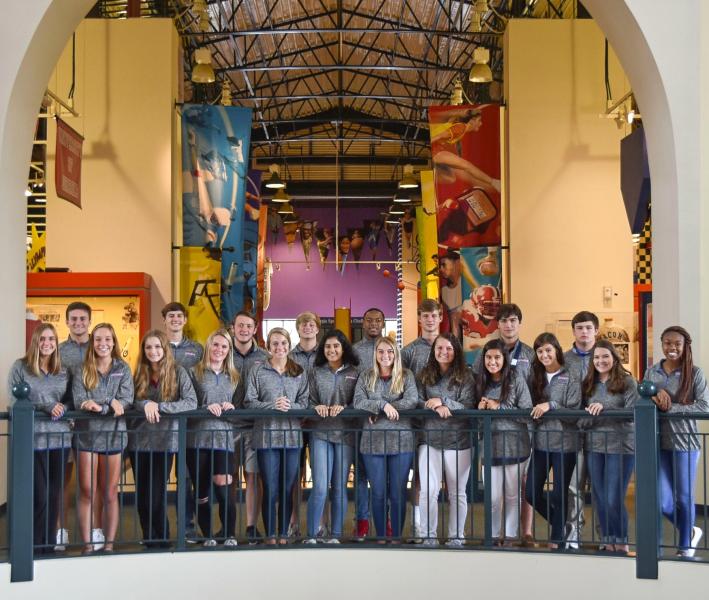 2019-20 Student Athlete Advisory Council (Left to right): Chloe Van Nort (North Atlanta), Chad Cobb (Union Grove), Maddy Cronin (Woodward), Ashlynn Anderson (Upson-Lee), Caleb Williams (Early Co.), Caroline Schiliz (King's Ridge), JC Upton (Calvary Day), Caroline Herrin (Pierce Co.), Jimbo Finch (Mary Persons), Pari Jain (Peachtree Ridge), Justin Harris (Peach Co.), Shaylen Sutton (NW Whitfield), Maylon Cochran (Thomasville), Kinnley Coffman (Greenbrier), Emma Castro (ACE), Cal Bowles (McIntosh), Madi Toole (Vidalia), Chase Chafin (Washington-Wilkes), Ella Newsome (West Laurens) and Lindsay Tillman (Thomasville).