The 2019 GHSA / Dr. Ralph Swearngin Basketball State Championships, presented by Georgia Farm Bureau Insurance, were held March 6-9 at Macon Centreplex.  Seven teams captured first time basketball state titles: Girls - Carver-Columbus, Marion County, Douglass; Lanier (school's first); Boys - Therrell, Tri-Cities (school's first) and McEachern. Four teams finished with undefeated seasons: McEachern (32-0, Boys), Westlake (32-0, Girls), Carver-Columbus (32-0, Girls) and Calhoun County (30-0, Boys) along with two schools, Buford and Carver-Columbus, that swept both boys / girls state victories. Special recognition to the 28-0 1979 Southwest Macon boys state / national champions, which was honored during a stiring ceremony during halftime of the 7A boys final Saturday night.. 
Congratulations to state champions: Girls - Holy Innocents', Marion County, Douglass-Atlanta, Johnson-Savannah (repeat), Carver-Columbus, Buford (3 straight), Lanier and Westlake (repeat); Boys - St. Francis, Calhoun, Therrell, Carver-Columbus, Buford (2 in 3 seasons), Morgan County, Tri-Cities and McEachern; AAASP Wheelchair - Houston County (seven straight).  Past State Champions:  Boys & Girls.
Much appreciation goes to the following groups, whose dedication and support made the four-day Championship Week a success.  Thank you Macon Centreplex, game officials, Dr. Robin Hines, Ernie Yarbrough and the GHSA staff, 

statewide media, 

American Association for Adapted Sports Programs (AAASP), Earl Etheridge & Savannah event operations staff, David Witherow (PA), Big Sticky Graphics, NFHS Network (Video Streaming), Sports Medicine South (Athletic Trainers / Medical Services) , West Georgia Sports Information Services (Statistics), Georgia Farm Bureau Insurance (Award Presenters), Ty Freeman (Photography), US Army, Atlanta Hawks, Gatorade, TeamIP (Merchandise), ScoreAtlanta (Event Program), Wilson (Official Basketball) and the school communities of fans, cheerleaders and teams that attended the state championships.  
Results
Wed., March 6
A Private Girls (Holy Innocents' 75, Wesleyan 48)
A Private Boys (St. Francis 73, ELCA 69)
A Public Girls (Marion Co. 50, Calhoun Co. 38)
A Public Boys (Calhoun Co. 69, Treutlen 67)
Thurs., March 7
2A Girls (Douglass-Atl. 57, Early Co. 51)
2A Boys (Therrell 51, Vidalia 49)
3A Girls (Johnson-Sav. 54, Hart Co. 50)
3A Boys (Morgan Co. 68, Hart Co. 54)
Fri., March 8
4A Girls (Carver-Columbus 56, Spalding 44)
4A Boys (Carver-Columbus 58, Americus-Sumter 55)
AAASP Wheelchair (Houston County 39, Gwinnett 17)
5A Girls (Buford 67, Villa Rica 59)
5A Boys (Buford 76, Fayette County 69)
Sat., March 9
6A Girls (Lanier 52, Lovejoy 45)
6A Boys (Tri-Cities 46, Tucker 43)
7A Girls (Westlake 60, Collins Hill 53)
7A Boys (McEachern 62, Meadowcreek 54)
Video
Free on-demand viewing at NFHSNetwork.com/GHSA will be available three days after the event.  DVDs can also be ordered at NFHSNetwork.com. NFHS Network - High School Happens Here!
Merchandise
State championship merchandise available by Team IP.
7A Boys - McEachern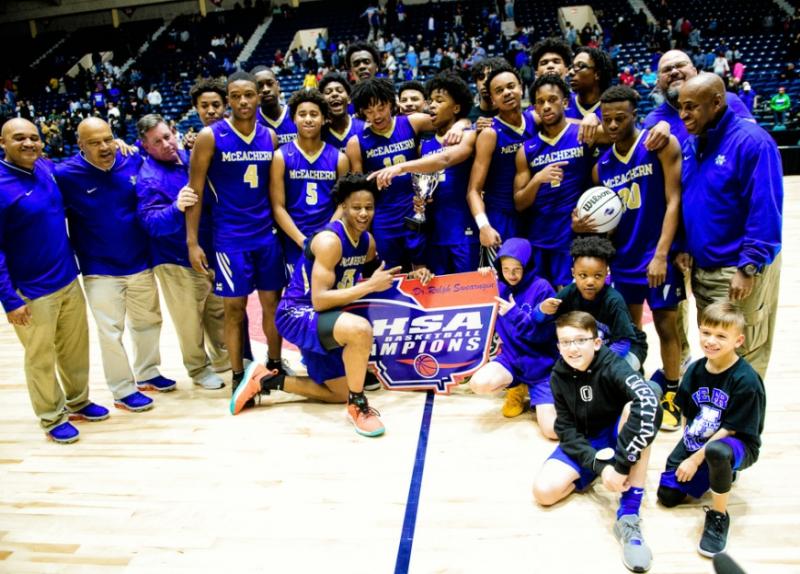 6A Boys - Tri-Cities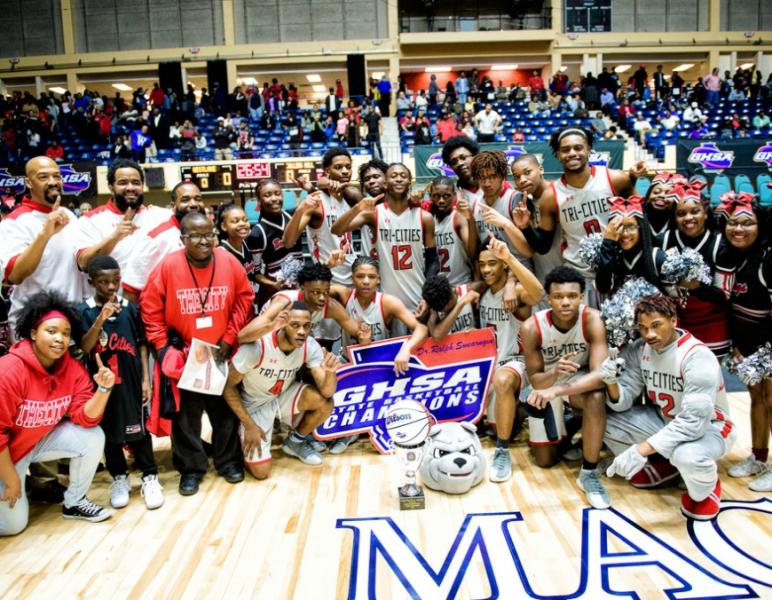 5A Boys - Buford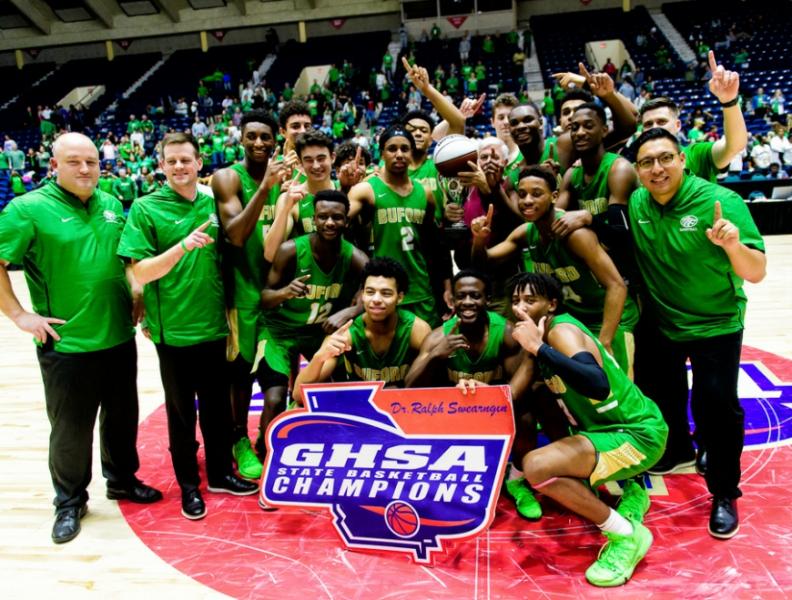 4A Boys - Carver-Columbus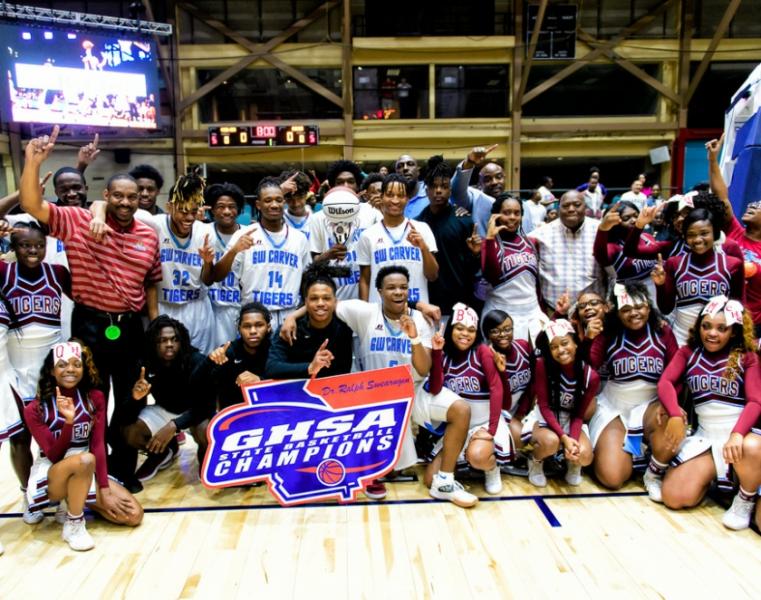 3A Boys - Morgan County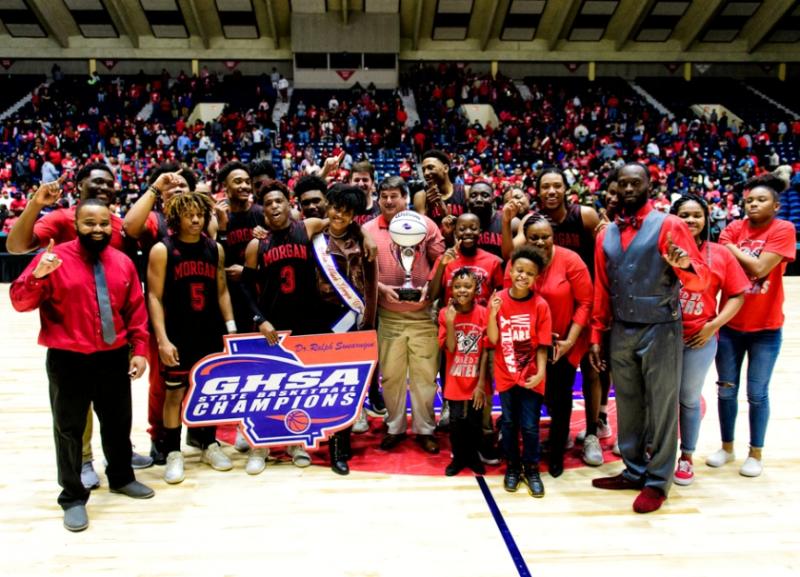 2A Boys - Therrell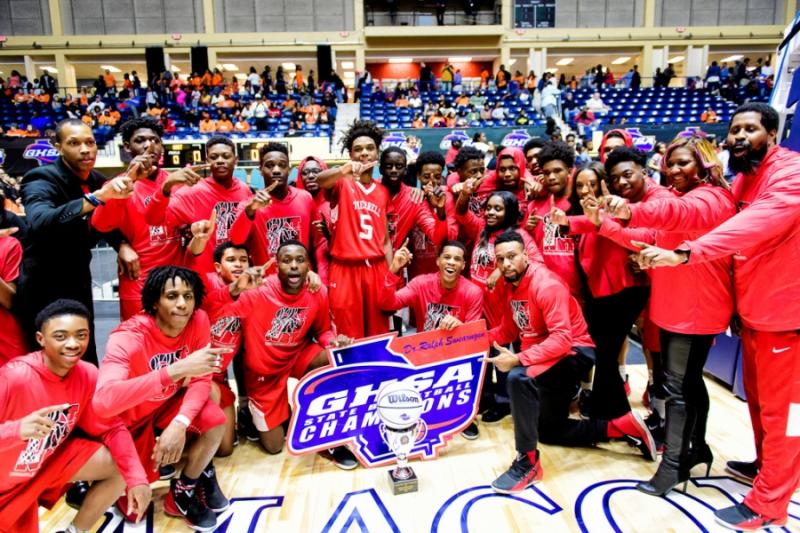 A Public Boys - Calhoun County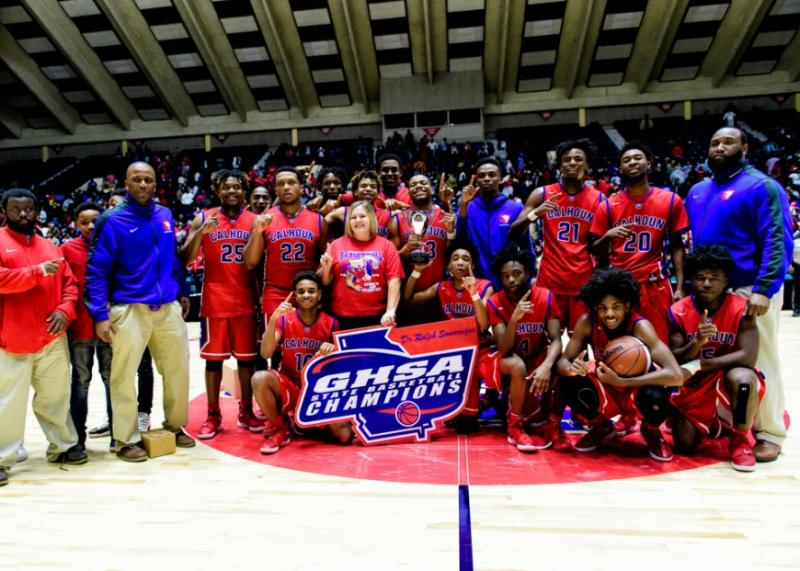 A Private Boys - St. Francis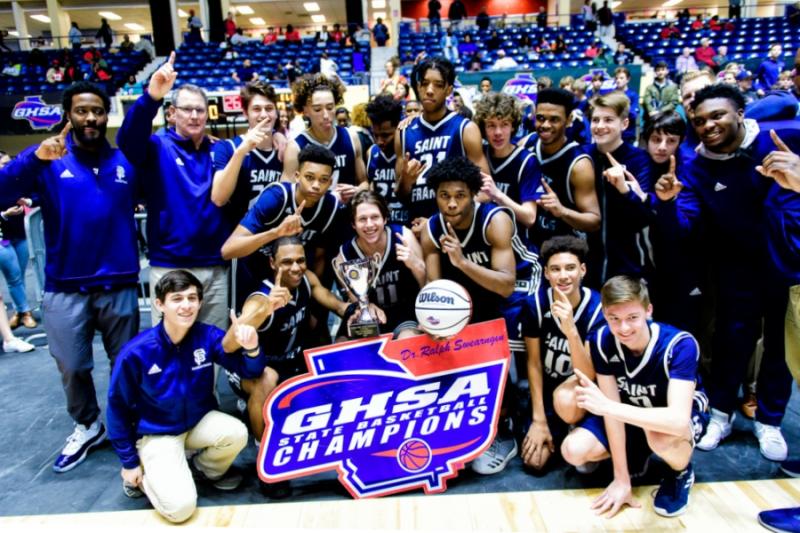 7A Girls - Westlake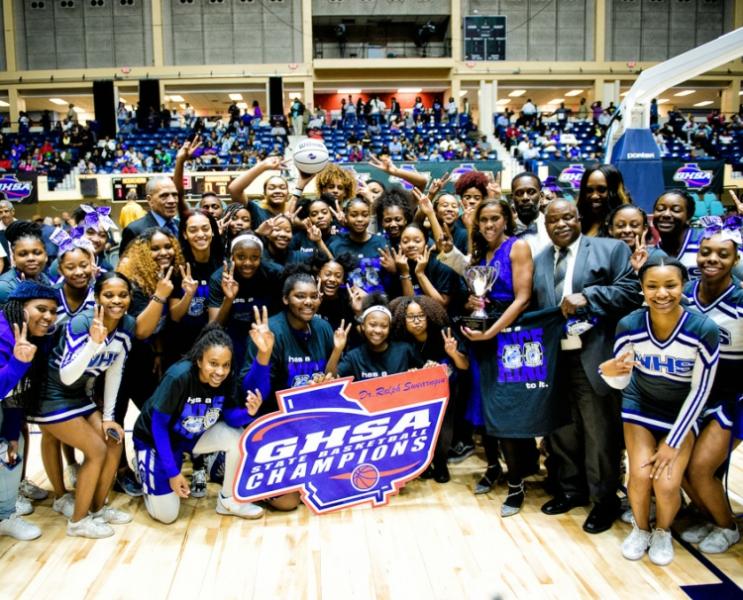 6A Girls - Lanier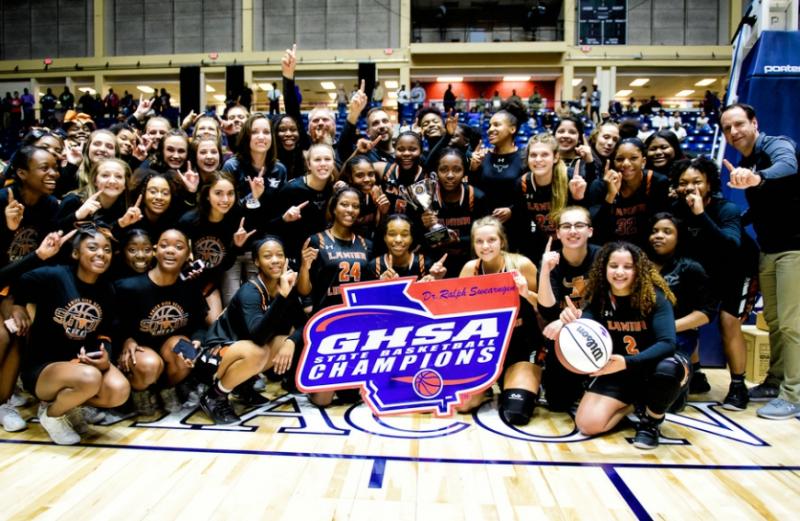 5A Girls - Buford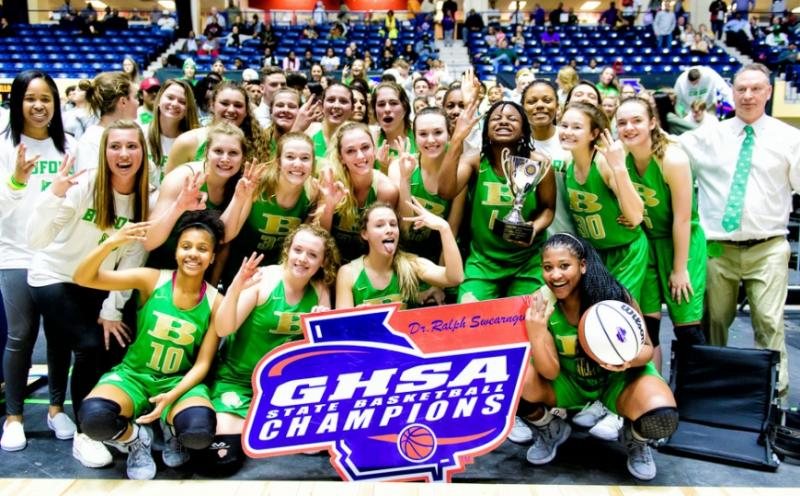 4A Girls - Carver-Columbus
3A Girls - Johnson-Savannah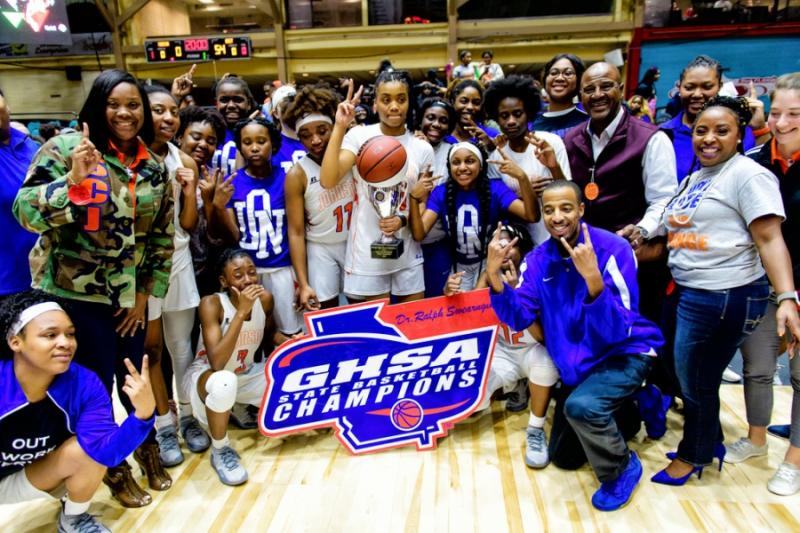 2A Girls - Douglass-Atlanta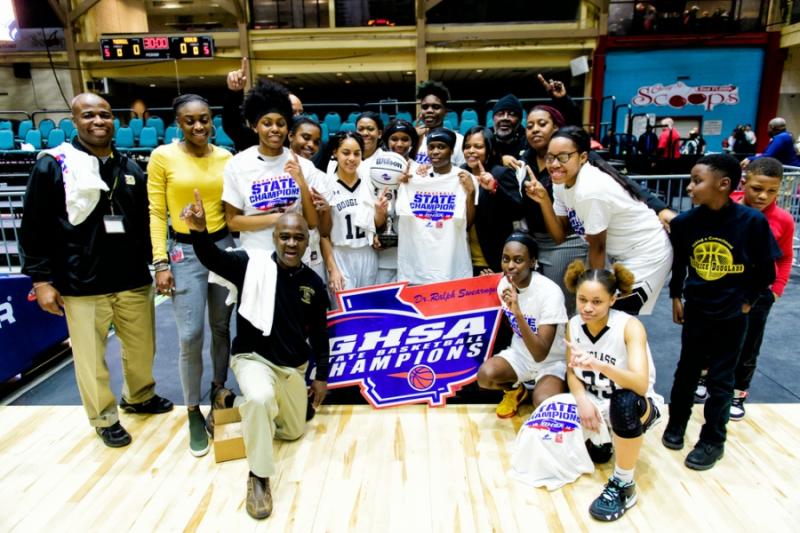 A Public Girls - Marion County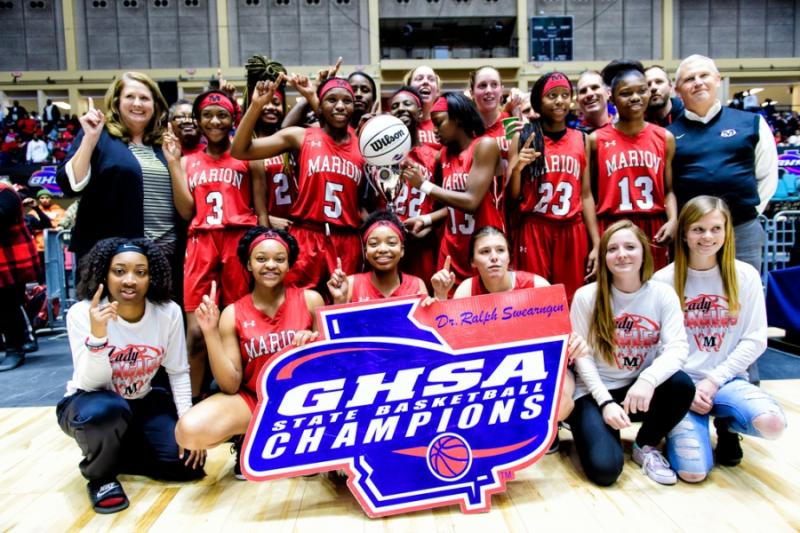 A Private Girls - Holy Innocents'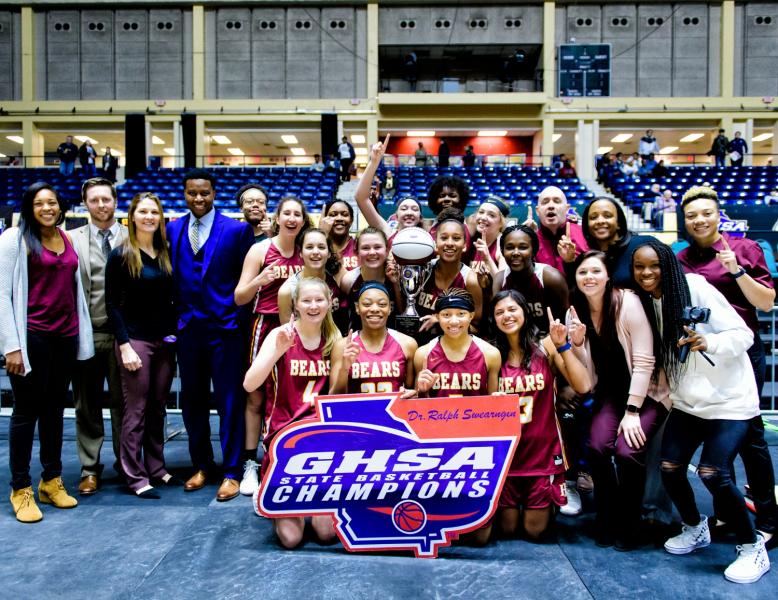 AAASP - Houston County Sharks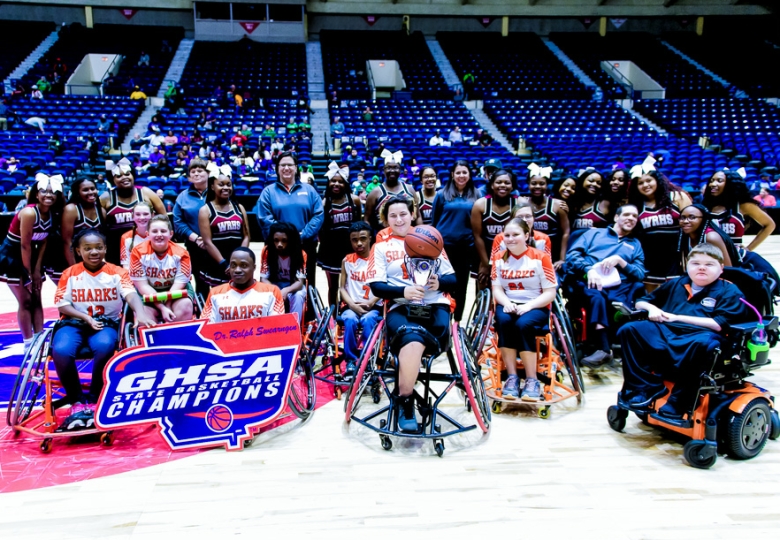 Photos courtesy of Ty Freeman