Congratulations to GHSA / Dr. Lucia 

Norwood

 Gymnastics State Champions, West Forsyth (6A-7A) and North Oconee (1A-5A) capturing the 2019 titles on May 4 at Ola High School. The Lady Wolverines captured their third straight title in a narrow tiebreaker over Lambert after both teams scored 111.725  totals.  North Oconee (113.800) won the new 1A-5A division after a runner-up finish last season, followed by newcomer Denmark (108.550)
Thanks to the enthusiasm of Ola High School staff on hosting a well-run meet. Appreciation to GHSA staff, volunteers, judges, sponsors, athletes and fans who supported this successful state championship.  View past state champions.
West Forsyth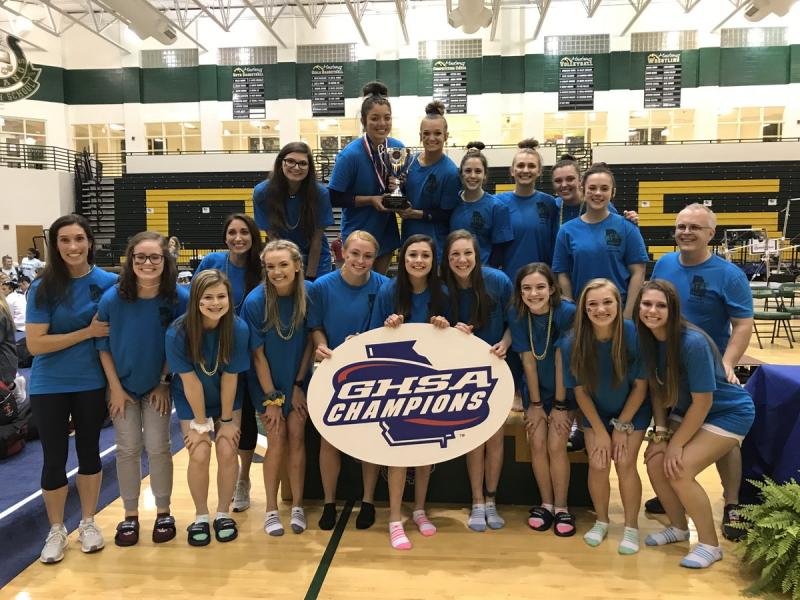 Class 6A-7A
Team Results
1. West Forsyth (111.725)
2. Lambert (111.725)
3. Cambridge (107.975)
4. Etowah (107.375)
Individual Results
All Around
1. Brianna Greenlow, Lambert (38.675) 2. Ella Castellanos, West Forsyth (37.9) 3. Olivia Blakely, West Forsyth (37.525) 4. Rubylyn Goad, Newnan (37.275)
Uneven Parallel Bars
1. Molly Froman, Etowah (9.85) 2. Shreya Munshi, Lambert (9.675) 3. Rubylyn Goad, Newnan (9.625) 4. Ella Castellanos, West Forsyth (9.6)
Vault
1. Taylor Rech, Cambridge (9.8) 2. Brianna Greenlow, Lambert (9.75) 3. Olivia Blakely, West Forsyth (9.7) 4. Charlie Behner, Cambridge (9.6)
Balance Beam
1. Brianna Greenlow, Lambert (9.6) 2. Ella Castellanos, West Forsyth (9.3) 3. Hallie Stocker, West Forsyth (9.2) 4. Rubylyn Goad, Newnan (8.6)
Floor Exercise
1. Brianna Greenlow, Lambert (9.9) 2. Altagracia Frazier, Tucker (9.375) 3. Hallie Stocker, West Forsyth (9.3) 4. Ella Castellanos, West Forsyth (9.225)
---
North Oconee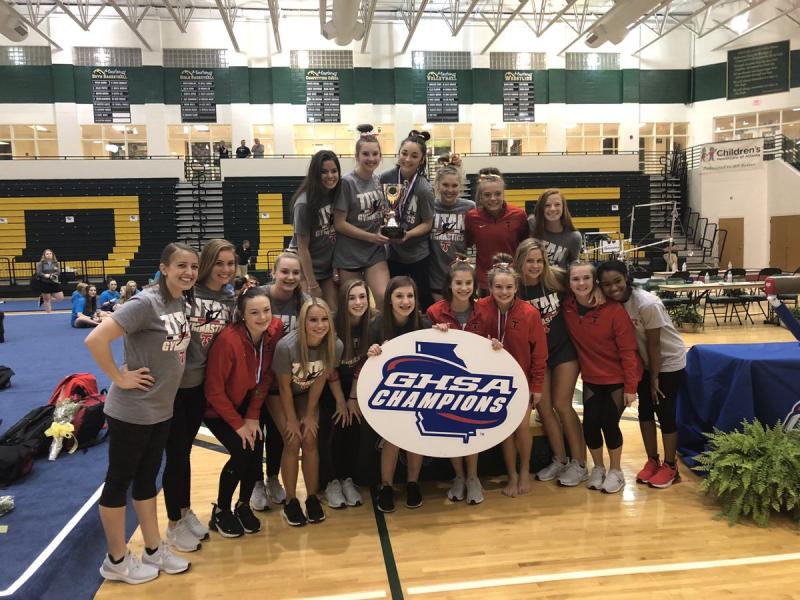 Class A-5A
Team Results
1. North Oconee (113.8)
2. Denmark (108.55)
3. Buford (108.05)
4. Westminster (99.625)
Individual Results
All Around
1. Sarah Wilson, Denmark (38.8) 2. Elena Arenas, North Oconee (38.55) 3. Cyrena Whalen, Buford (38.075) 4. Chase Brock, Denmark (37.3)
Uneven Parallel Bars
1. Sarah Wilson, Denmark (10.00) 2. Elena Arenas, North Oconee (9.7) 3. Cyrena Whalen, Buford (9.65) 4. Kelsey Schulman, Buford (9.4)
Vault
1. Sarah Wilson, Denmark (9.8) 1. Brantley Lucas, North Oconee (9.8) 3. Karlee Wells, North Oconee (9.625) 4. Elena Arenas, North Oconee (9.625)
Balance Beam
1. Maylen Pulliam, North Oconee (9.4) 2. Cyrena Whalen, Buford (9.35) 2. Brantley Lucas, North Oconee (9.35) 4. Sarah Wilson, Denmark (9.3)
Floor Exercise
1. Sarah Wilson, Denmark (9.7) 2. Madelynn Crow, Pike (9.675) 3. Elena Arenas, North Oconee (9.65) 4. Cyrena Whalen, Buford (9.575)