The 3rd GHSA Bass Fishing State Championship, presented by Georgia Farm Bureau Insurance, was held May 20th, 2023 at Clarks Hill Lake. Congratulations to state champions Bryson Dover and Angel Cornejo of the Lanier Longhorns. A total of 63 schools and 106 boats made the finals from four qualifying tournaments held in January, February, March and April.
Appreciation goes to Kevin Giddens (GHSA Bass Coordinator), Randy Sullivan & staff (Federation Angler), volunteers, Wildwood Park at Clarks Hill Lake, Georgia Farm Bureau, TeamIP, Student Angler Federation, Major League Fishing and all anglers, boat captains, coaches and fans that that contributed to an outstanding day of fishing.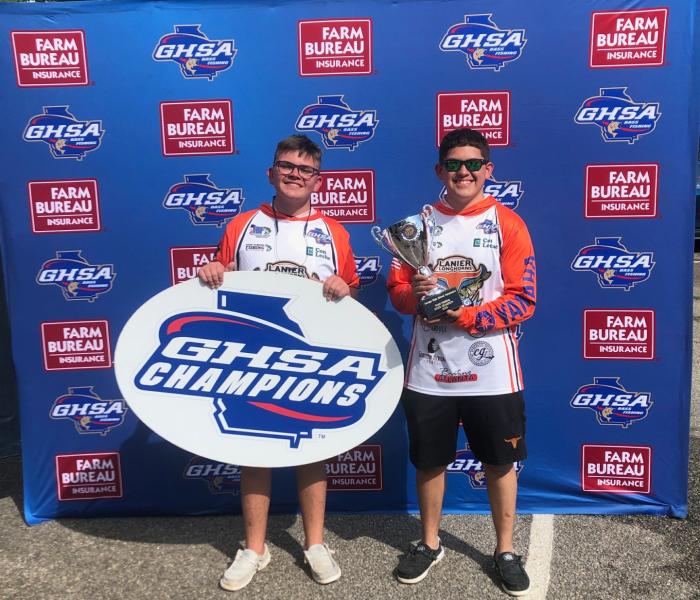 Top 10 Boats
Team School Fish Weight
1. BRYSON DOVER-ANGEL CORNEJO (LANIER) 5/5 20-08
2. JACKSON THOMAS-COLE BRADLEY (KINGS RIDGE) 5/5 16-07
3. MADISON HAWKIN-CARA PERRY (DAWSON COUNTY) 5/5 16-05
4. CHURCHILL HARRIS-CAMPBELL PATTERSON (OCONEE COUNTY) 5/5 15-11
5. BRENNAN ENFINGER-CORBYN THOMPSON (BAINBRIDGE) 5/5 15-08
6. BEN WILSON-JACOB JANNING (JEFFERSON) 5/5 13-11
7. MITCHELL ROBERSON-JACOB FAGLER (SWAINSBORO) 5/5 13-04
8. MICHAEL AVERY-FISHER EDWARDS (SOUTH FORSYTH) 5/5 12-14
9. HOLDEN MCCLUNG-ROBERT WADE (FELLOWSHIP CHRISTIAN) 5/5 11-10
10. REESE MUTTER-CHARLES ROBERTS (SOUTH FORSYTH) 5/4 11-10
Official Website / Tournament Info
Clarks Hill Lake Results
High School Fishing.org
Photos
Order "weigh-in" photography at GHSA Photo Gallery
Event Program
Digital event program (Produced by ScoreAtlanta).
Merchandise
State championship merchandise available online by Team IP.