The first GHSA Bass Fishing State Championship, presented by Georgia Farm Bureau Insurance, was held May 8, 2021 at Lake Lanier. Congratulations to the inaugural state champions Jayden Faulkner and Davis Madden of Evans High School with a five-bass catch of 20 lbs. 3 oz. A total of 68 boats made the finals from four qualifying tournaments held in January, February, March and April.
Appreciation goes to Kevin Giddens (GHSA Bass Coordinator), Randy Sullivan & staff (Federation Angler), volunteers, Laurel Park Ramp at Lake Lanier, Georgia Farm Bureau, US Army, TeamIP, Student Angler Federation, Major League Fishing and all anglers, boat captains, coaches and fans that that contributed to a successful event.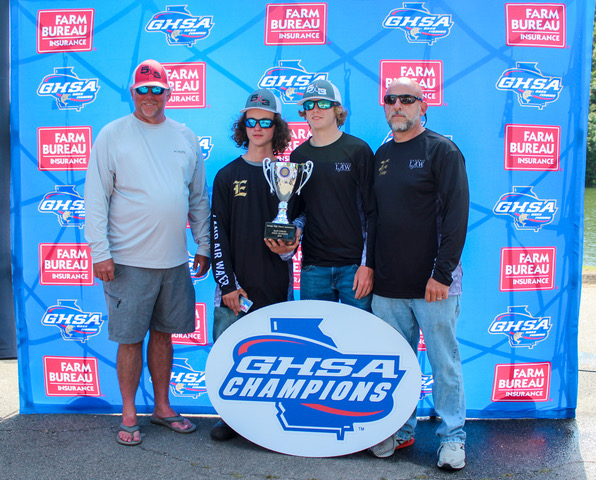 Top 10 Boats
Team School Weight
1. Jayden Faulkner-Davis Madden Evans 20-03
2. Tanner Hadden-Tyler Starkey Greenbrier 18-02
3. Chase Mason-Jonathon Garbacz West Forsyth 17-03
4. Jeremy Zyck-Jack Thurmond South Forsyth 16-14
5. Mara Anderson-Presley Tillman Appling County 15-12
6. Brock Lewis-Gage Sellars Bainbridge 15-11
7. Jacob Hodge-Henry Garrett Greenbrier 15-02
8. Bowynn Brown-Shane Dill Bainbridge 14-15
9. Jordan Brewer-Matson Grose Fellowship Christian 14-13
10. Jacob Brightwell-Hunter Horne Colquitt County 14-09
Official Website / Tournament Info
Lake Lanier Results
High School Fishing.org
Photos
Order "weigh-in" photography at GHSA Photo Gallery
Merchandise
State championship merchandise will be available on site by Team IP.