Submitted by
webmaster
on Mon, 04/29/2019 - 3:29pm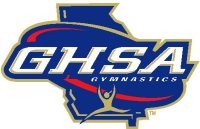 The 2021 GHSA Gymnastics State Preliminaries and Championships will be held Thursday-Saturday, April 22-24, at Buford Arena.  Qualifying teams and individuals will compete on balance beam, uneven parallel bars, vault and floor exercise.  Tickets are $8 at the door and available digitally on GoFan.  View past state champions.
When
Where
Tickets
Schedule
April 22: A-5A Team Preliminary Meet - 1:00 pm
April 22: 6A-7A Team Preliminary Meet - 5:30 pm
April 23: A-7A Individual Prelimiary Meet - 11:00 am
April 24: All Class State Meet - 11:00 am
Merchandise
State championship merchandise will be available on site by Team IP.