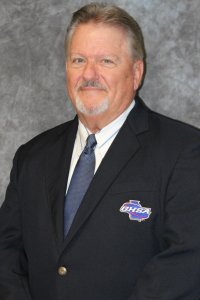 Assistant Executive Director
Ernie began working for the GHSA as the Rules Interpreter for basketball in 1992 and softball in 1997. He was added to the fulltime staff as an Associate Director in 2002. He currently serves as the Coordinator of Officiating and his additional responsibilities include sport coordinator for lacrosse. He also serves as the logistics coordinator for many of the State Championship events.
Prior to joining the GHSA staff, Ernie taught and coached for six years at the high school and the college levels for 10 years in California, Oklahoma and Georgia. He also worked in player development in the NFL for 13 years with the Buccaneers, Cardinals, and Jets.
Ernie officiated basketball at the high school and college levels for 32 years, during which he officiated high school championship games in three states (Oklahoma, California, Georgia) and was an official for international games prior to the start of the 1996 Olympics in Atlanta. He was selected as the Naismith High School Basketball Official of the Year in Georgia for 1995. Ernie served as the Director of Officiating for the first Women's Professional Basketball League (ABL) from 1996-99, and serves as an officials' observer for the ACC, SOCON, and Big South.
Ernie has been actively involved in fast pitch softball for more than 50 years as a player, coach and administrator. He currently serves as the Georgia State and Southeast Regional Junior Olympic Commissioner for USA Softball. Ernie was inducted in the Georgia Softball Hall of Fame in 2016 and coached the Gold Medal USA Softball Girls Junior National Team in the 2019 Pan American Games in Columbia, South America.
He was a four-sport letterman at Owasso High School (Oklahoma), and College Division All American football player at the University of San Diego in 1973.
Ernie was recently awarded the Georgia Athletic Coaches Association Sam Burke Award for his commitment to high school athletics in the state of Georgia, and the prestigious NFHS Citation Award for his leadership and contribution to high school athletics.
Ernie was born in Alameda, California, raised in Owasso, Oklahoma and was a Vietnam-era veteran while serving in the U.S. Navy. He and his wife Cindy currently reside in Canton, have two children (Shawn and Chelsy) and are the proud grandparents of Hampton.