Submitted by
webmaster
on Fri, 09/14/2018 - 9:39am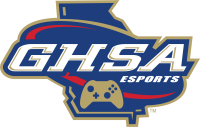 The 2021-22 GHSA Spring Esports State Championships, powered by PlayVS, will be held Friday, April 29th, at 3:00 p.m., at the University of West Georgia Coliseum. Titles will be determined for League of Legends, Rocket League, Madden NFL and Smash Bros. Ultimate. Trophies and medals will be awarded to champions and runnersup in each game. Defending champion from the Fall of 2021 were Northview (League of Legends), Forsyth Central (Rocket League), East Paulding (Smash) and Westminster (FIFA). The finals of Madden and League of Legends will be carried live on NFHS Network & Twitch. Spectators are welcome to attend the event free of charge.
When
Where
Schedule
Begin Play:
Rocket League - 3:00 pm - Forsyth Central vs Pickens County
Smash - 4:00 pm - Westminster vs. Brookwood
League of Legends - 5:30 pm - Duluth vs. North Gwinnett
Madden - 5:30 pm - North Forsyth vs Peach County
League of Legends and Madden will be live streamed on the NFHS Network and Twitch
Social Media
Follow & Tag your Instagram, Twitter, Facebook & TikTok post to @OfficialGHSA.
Finals Checklist
League of Legends
Mouse
Mousepad
Headphones
Keyboard
Rocket League
Preferred Controller
Appropriate Adapter (to connect to a PC)
(Headphones)
Smash Ultimate
Preferred Controller
Appropriate Adapter (to connect to Switch)
Madden
Preferred Controller
PS4 Console (if they play on a PS4, if they play on PS5 the venue has)
PS4 LAN Adapter + Power Plug