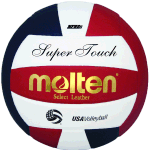 Reno, NV – Molten USA, Inc is pleased to announce that the Georgia High School Association (GHSA) has selected Molten as their official volleyball. The new partnership begins immediately with the 2012 volleyball season and will continue through the 2015 fall volleyball season.
The official ball will be Molten's IV58L-3-HS Super Touch Volleyball. This elite competition volleyball features a red, white, and blue color scheme, premium Japanese leather cover and uni-bladder cotton wrapped construction. With the launch of the partnership, each member school will receive a complimentary volleyball provided by Molten for evaluation.
"The Georgia High School Association is pleased to begin a relationship with Molten USA as the Official Volleyball of the GHSA," said Ralph Swearngin, GHSA Executive Director. "Molten will be a strong partner who provides a quality volleyball and equipment support, which is very valuable for our member schools."
"We believe that Molten's commitment to manufacturing the highest quality products combined with the strength of the Georgia volleyball community will help enable the athletes of Georgia to achieve their highest potential," said Molten USA President Melissa Dawson. "We look forward to working together with the GHSA, the excellent member schools and athletes of Georgia." In addition to Molten providing support for the state championship matches, the partnership will also include collaboration on a variety of grassroots and social media initiatives.