Submitted by
webmaster
on Wed, 05/15/2019 - 8:32am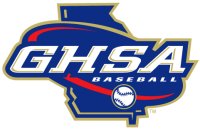 The 2021 GHSA State Baseball championships, presented by Mizuno and the Atlanta Braves, will be held at three sites around the state on varying dates from May 20 through May 27 (see exact schedule below). Truist Park, home of the Braves, and Coolray Field, home of the Gwinnett Stripers, will host games, along with Grayson Park in Savannah. Admission at each site is $15 per day and fans who are not able to make the games in person can watch on the NFHS Network, as all games will be live streamed.
When
Where
Tickets
Schedule
COOLRAY FIELD – GWINNETT STRIPERS
Live Game Stats Available Here
Post-Game Stats
4A - Marist 5-2, Benedictine 0-1
1A Private - Mount Paran Christian 4-3, Wesleyan 0-0
3A  - North Hall 13-1-1, Franklin County 1-3-0
TRUIST PARK – ATLANTA BRAVES
Attention Media covering at Truist Park:
Please RSVP in advance to Kara Zoellner (kara.zoellner@braves.com or 404-614-1564) if interested in post-game interviews.
Live Game Stats Available Here
Post-Game Stats
7A - Parkview 4-3, North Paulding 0-2
5A - Starr's Mill 1-4, Loganville 0-2
6A - Houston County 2-4, Lassiter 1-0
GRAYSON PARK – SAVANNAH
1A Public - Metter 4-2-6, Gordon Lee 7-1-5
2A - Jeff Davis 5-8, Lovett 2-3
Safety Guidelines
GHSA encourages everyone to Stay Safe.  Wear A Mask, Social Distance & Wash Your Hands.  Fans are requested to maintain social distance among different groups. Thank you.
Event Programs
Digital event programs (Produced by ScoreAtlanta)
For CoolRay Field
For Grayson Park
For Triust Park
Video
Spread the word. Family, friends and fans can watch all games Live at NFHSNetwork.com/GHSA.  Subscription to the Network for an all-access pass is the low price of $10.99 per month per 30 days. DVDs can also be ordered at NFHSNetwork.com. NFHS Network - High School Happens Here!
Merchandise
State championship merchandise will be available on site by Team IP.
Social Media
Follow & Tag your Instagram, Twitter, Facebook & TikTok post to @OfficialGHSA.
Brackets
Click here