Submitted by
webmaster
on Wed, 05/15/2019 - 8:32am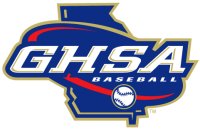 When
Where
Tickets
Schedule
COOLRAY FIELD – GWINNETT STRIPERS
May 19:  4A (DH) 5:00 pm
May 20:  4A (If Game) 12:00 pm
May 20:  5A (DH) 5:00 pm
May 21:  5A (If Game) 12:00 pm
May 21:  TBD (DH) 5:00 pm
May 22:  TBD (If Game) 12:00 pm
May 22:  TBD (DH) 5:00 pm
May 24:  TBD (If Game) 7:00 pm
TRUIST PARK – ATLANTA BRAVES
May 24:  6A (DH) 5:00 pm
May 25:  6A (If Game) 12:00 pm
May 25:  7A (DH) 5:00 pm
May 26:  7A (If Game) 7:00 pm
GRAYSON PARK – SAVANNAH
May 21:  TBD (DH) 5:00 pm
May 22:  TBD (If Game) 12:00 pm
May 22:  TBD (DH) 5:00 pm
May 24:  TBD (If Game) 7:00 pm
 
Safety Guidelines
GHSA encourages everyone to Stay Safe.  Wear A Mask, Social Distance & Wash Your Hands.  Fans are requested to maintain social distance among different groups. Thank you.
Event Program
Digital event programs (Produced by ScoreAtlanta) Download - TBA
Video
Spread the word. Family, friends and fans can watch all games Live at NFHSNetwork.com/GHSA.  Subscription to the Network for an all-access pass is the low price of $10.95 per month per 30 days. DVDs can also be ordered at NFHSNetwork.com. NFHS Network - High School Happens Here!
Merchandise
State championship merchandise will be available on site by Team IP.
Brackets
Click here