Submitted by
webmaster
on Tue, 10/18/2022 - 11:01am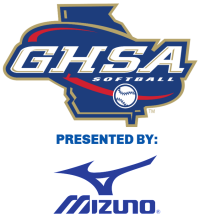 The 2023 GHSA Fast Pitch Softball State Championships presented by Mizuno will be held October 25-28 at South Commons Softball Complex hosted by the Columbus Sports Council. Tickets are $15 each day (or a four-day tournament pass for $45) ONLY at GoFan. No tickets will be sold at the gate. Wilson is the official softball of the GHSA. View past state champions.
When
Where
Tickets
FP- $15 per day
or $45 for 4-day pass
Tickets available ONLY at GoFan.
How Fans Buy Tickets
Parking is $5 daily, or $15 for a tournament pass
Schedule
Oct. 25 - 11:00AM - 9:00PM
Oct. 26 - 11:00AM - 7:00PM
Oct. 27 - 11:00AM - 7:00PM
Oct. 28 - 11:00AM - 5:00PM
Event Program
Digital event program - (Produced by ScoreAtlanta)
Video
NFHS Network will stream all fields, all games produced by AthletesGoLive.com. Spread the word with family and friends. Subscribing to the Network for an all-access pass is the low price of $11.99 per month per 30-days or $69 for an annual pass. Digital copies can also be ordered at NFHSNetwork.com. Streaming rights are exclusive to the GHSA and the NFHS Network. NO other live broadcasts are permitted on social media or any other online platform!
Photos
Order action photography at GHSA Photo Gallery
Merchandise
State championship merchandise will be available on site by TeamIP.
Social Media
Follow & Tag your Instagram, Twitter, Facebook & TikTok post to @OfficialGHSA.
Brackets
Super Regional Brackets
Elite Eight Brackets