Submitted by
webmaster
on Wed, 07/03/2013 - 9:44pm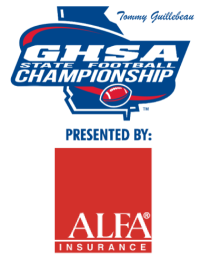 The 2023 GHSA-Tommy Guillebeau State Football Championships, presented by Alfa Insurance, will be held December 11-13 at Mercedes-Benz Stadium. Tickets are $20 and will be available for pre-sale, and mobile tickets are at GoFan. All games (including flag football) will be televised live on Georgia Public Broadcasting and streaming to any device at GPB.org/sports and NFHSNetwork.com. View past champions.
When
Where
Tickets
Schedule
Dec. 11
2:00 pm - Flag Division 1 (TBA)
4:00 pm - A Division 1 (Swainsboro vs. Prince Avenue)
7:00 pm - A Division 2 (Bowdon vs. Manchester)
Dec. 12
11:00 am - Flag Division 2 (TBA)
1:00 pm - Class 2A (Rockmart vs. Pierce County)
4:00 pm - Class 4A (Perry vs. Stockbridge)
7:00 pm - Class 6A (Thomas County Central vs. Woodward)
Dec. 13
11:00 am - Flag Division 3 (TBA)
1:00 pm - Class 3A (Savannah Christian vs. Cedar Grove)
4:00 pm - Class 5A (Coffee vs. Creekside)
7:00 pm - Class 7A (Milton vs. Walton)
Media, College Coaches, GHSA Passes & Credentials
(All Media reps MUST pre-register: see instructions here). Media "will-call" window will open one hour before the first game each day.
College Coaches, GHSA Pass Holders - TBA.
Radio
Live on 680 The Fan
TV
Live on Georgia Public Broadcasting & streamed on gpb.org
Video
All games live on NFHS Network.
Order copies on NFHS Network.
Merchandise
State championship merchandise will be available on site by Team IP.
Event Program
Digital event program - TBA (Produced by ScoreAtlanta.)
Photos
Order action photography at GHSA Photo Gallery
Sports Medicine
Sports medicine coverage coordinated by Sports Medicine South and Northside Hospital.
Social Media
Follow & Tag your Instagram, Twitter, Facebook & TikTok post to @OfficialGHSA.
Brackets
Championship Brackets