Submitted by
webmaster
on Tue, 02/19/2019 - 9:07pm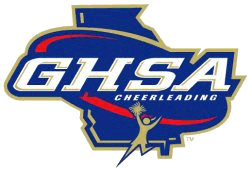 The 2023-2024 Game Day Cheerleading Championship, in partnership with Varsity Brands, Inc., will be held on December 8. Admission is $15.00 per person. Tickets are available on
GoFan
, and the ticket is good for the entire day's event.
The divisions will be A-2A, 3A-4A, 5A-6A, 7A and Dance. Teams will compete in areas they use to lead a crowd at a game on "Game Day" at a football or basketball game. There are three segments on which they will be judged: cheer, band chant, and fight song. The teams scoring the highest in these three segments will be the finalists and will then combine all of these areas in an additional three-minute routine.
When
Where
Tickets
Schedule
Meet Info
TBD
Event Program
TBD
Merchandise
Varsity Brands will have event merchandise available.
Video
Game Day State will be streamed LIVE on Friday, February 24 at

NFHSNetwork.com

. Subscription to NFHS Network for an all-access pass is the low price of $11.99 per month per 30 days. Streaming rights are exclusive to the GHSA and NFHS Network. NO other live broadcasts are permitted on social media or any other online platform!