The Georgia High School Association recently honored Major Larry Pendergrass (ret.) for all his years of service to the GHSA Riflery program, as he stepped down from his position as State Riflery Coordinator following the 2018-19 school year.
Originally from Missouri with degrees from Southwest Missouri State and the University of Utah, Major Pendergrass has been involved with GHSA Riflery since the program began in 1991-92. An Army veteran (1962-82), Major Pendergrass saw tours of duty in the US, Germany, Vietnam, Japan and Korea before leaving the military and serving as Army JROTC instructor at three different Fulton County high schools from 1984-2002.
He coached Riflery at the high school level from 1992-2002, winning five GHSA team state championships and coaching six individual GHSA state winners as well.
Major Pendergrass began his service to GHSA as an Area Chair from 1993-1997. He ran the state meet as Championship Director from 1998-2012 and served as overall State Riflery Coordinator from 2003-2019.
He also was active on the national and international levels during this time. He served as Chief Range Officer, directing the competition, at nine different NCAA championships, and officiated at more than 50 national competitions and 40 national junior events.
At the international level, Major Pendergrass officiated at 16 competitions in four countries, including 15 World Cups. He was Fire Arms Supervisor for the 1996 Olympics in Atlanta.
Previously honored by the International Shooting Sports Federation, the NCAA, USA Shooting and the Georgia Athletic Coaches Association, Major Pendergrass can now spend more time with his three grandchildren but he will be sorely missed by the GHSA.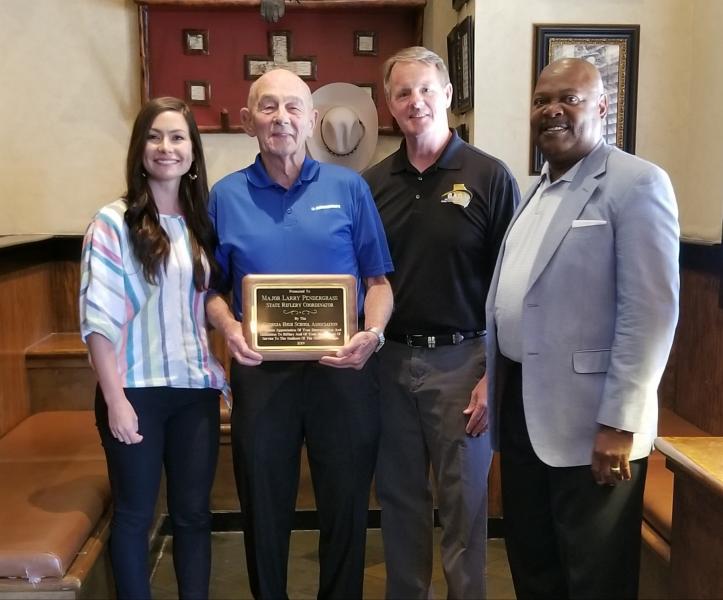 Pictured above (L-R) are GHSA Riflery Liaison Stacey Basilici, Major Larry Pendergrass (retired),
GHSA Executive Director Dr. Robin Hines and GHSA Associate Director Carror Wright