Submitted by
webmaster
on Wed, 07/03/2013 - 11:00pm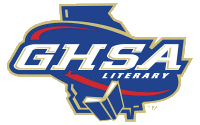 The 2023 State Literary Championships will be held on consecutive Saturdays, beginning on March 18 when Warner Robins High School will host the Class 4A and Class 5A competition while Buford High School will be the site of the 6A and 7A events. The A Division 2 and 2A competitions will take place March 25 at Georgia Military College while Bremen will host the A Division I and 3A events the same day. Admission is free at all locations.
When
Where
March 18
Buford HS - 7A & 6A
Warner Robins HS - 5A & 4A
March 25
Bremen HS - 3A & A Div. 1
GMC HS - 2A & A Div. 2
Tickets
Schedule
Safety Guidelines
GHSA encourages everyone to Stay Safe. Fans are encouraged to social distance between different groups whenever possible. Thank you.
Merchandise
State championship merchandise can be ordered online with Team IP.
Social Media
Follow & Tag your Instagram, Twitter, Facebook & TikTok post to @OfficialGHSA.