Submitted by
webmaster
on Wed, 07/03/2013 - 11:00pm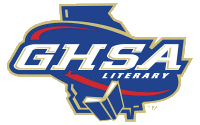 The 2022 State Literary Championships will be held on consecutive Saturdays, beginning on March 19 when Warner Robins High School will host the Class 3A and Class 5A competition while Buford High School will be the site of the A Private, 6A and 7A events. The A Public, 2A and 4A competitions will take place March 26 at Georgia Military College. Admission is free at all three locations.
The winners from the March 19th finals were Cherokee in 7A, Buford in 6A, Calhoun in 5A, Ringgold in 3A and King's Ridge in 1A Private. Click here for that story.
When
Where
March 19
A Private, 6A & 7A - Buford HS
3A & 5A - Warner Robins HS
March 26
A Public, 2A & 4A - GMC
Tickets
Schedule
Safety Guidelines
GHSA encourages everyone to Stay Safe by wearing a mask & washing your hands. Fans are encouraged to social distance between different groups whenever possible. Thank you.
Merchandise
State championship merchandise can be ordered online with Team IP.
Social Media
Follow & Tag your Instagram, Twitter, Facebook & TikTok post to @OfficialGHSA.
Internship Opportunity for Literary Students
The Junior Legal Internship/Scholarship Program is a week long internship for students entering the 9th through 11thgrade hosted by the Law Firm of Childers & McCain, LLC in Macon, Georgia on June 7-10, 2022. More information about the program can be found here: Seeking Applicants for 2022 Junior Internship Program (childersmccain.com).  To apply, applicants must have good grades, parental permission, send an email expressing interest to Christy@ChildersMcCain.com, and one adult (relative, friend or teacher) must send a recommendation by email to Christy@ChildersMcCain.com.