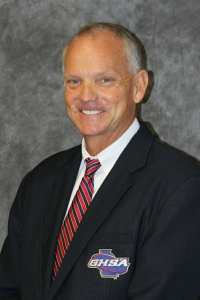 Assistant Executive Director
Jay came to the GHSA in 2014. His primary responsibilities include transfer eligibility, by-law interpretations and administrating the sports of Cross Country, Track and Golf.
Jay is married to Ida Hudson of LaGrange and together they have five children (Mandy, Davis, Murphy, Henry and Fred). They also have four grandchildren (Amelia, Karter, James and Erk).
Jay grew up in Athens, the second son of legendary football coach Erk Russell. He played football at the University of Georgia, lettering in 1978, 1979 and 1980. He earned his Bachelor's Degree Education in 1981 and his Masters in 1983.
Jay began his career coaching multiple sports in 1983 at Barnesville Academy. In 1985 he moved to Statesboro where he was an assistant football coach at Georgia Southern for seven years. From 1992 through 1994 he served as the Head Football Coach and Athletic Director at Rabun County. He held the same positions at Stephens County High School from 1994-1998. From there he went to Gordon Central High School filling the same roles for one year.
Jay finished his first career in education by serving as the Athletic Director and an administrator at LaGrange High School for 12 years. He retired from public education at the end of the 2012 school year and then served one year as the Athletic Director at LaGrange Academy.
Jay is a past President of the Georgia Athletic Directors Association, was an active member in the NIAAA, the Georgia Athletic Coaches Association and the American Football Coaches Association. He is a former Rotarian and currently serves on the West Georgia FCA Board. He also had two stints on the GHSA executive committee from 1996-99 and 2008-2012.
Jay enjoys golf, travel, reading, writing and playing the piano. He relishes fall Saturdays between the hedges in Athens.