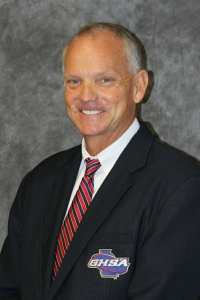 Jay returned to the GHSA in 2023 as an Associate Director following a four year absence (He previously served as the GHSA Assistant Executive Director from 2014-2018.) His primary sports will be Football, Flag Football, Golf and Hardship Eligibility.
Jay is an Athens native and the son of legendary football coach Erk Russell. After graduating from the University of Georgia, he coached a combined 17 years at Barnesville Academy, Georgia Southern, Rabun County, Stephens County, and Gordon Central. Jay moved to LaGrange in 2000 and spent the next 13 years in school and system administration retiring in 2013. Following his retirement, he held several positions.
Jay has long term involvements with the Georgia Athletic Coaches Association, the Georgia Athletic Directors Association, the American Football Coaches Association, and the Fellowship of Christian Athletes. He also volunteered in several capacities with his latest being "Rock Steady" (an exercise program for Parkinson's patients) and "Take Stock in Children (a mentoring program for at risk middle school and high school students in Florida.)
Jay has three children, all successful educators. He is the proud grandparent of six - four boys and two girls.