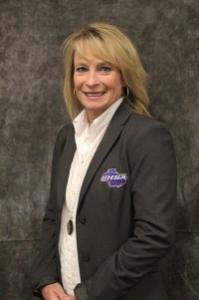 Penny joined the GHSA staff in July of 2016. As an Associate Director, her responsibilities include the administration of Cheerleading and Title IX compliance.
Penny is the daughter of Dan and Mary Lynda Pitts of Forsyth and the mother of two sons, Kip Burdette and Dan Burdette. Kip coaches at Pierce County High School while Dan coaches at Mary Persons. Dan is married to Chelsea Herr Burdette.
 Penny is a graduate of West Georgia College receiving a BS in Physical Education in 1982.  She was a PE teacher for 31 years in various Georgia counties including Elbert, Rome City, Stephens and Jasper County.  She completed her career in Monroe County where she taught PE and was the Head Varsity Cheerleading Coach for 13 years. She is a member of the Georgia Cheerleading Coaches Association where she has served in many roles including secretary, vice president and president.  Her team was named GA Team of the Year in 2007.  She was named Coach of the Year in 2010.
In the fall of 2010, Penny became the Spirit Coordinator over Cheerleading and Dance teams for Mercer University.  Upon her retirement from teaching, she became the Administrative Assistant for the Bears Football program at Mercer and served as the cheerleading coach until 2016.