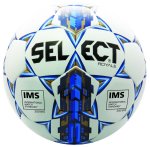 The Georgia High School Association announces that the Select Royale Soccer Ball will be the new "Official Soccer Ball of the GHSA" starting this upcoming 2016-17 season.  The NFHS approved match ball will be available in a variety of colors through most sporting goods retailers, Georgia team dealers and online.  
Select Sport has been the innovator in soccer ball technology and quality since the company's inception in 1947 in Copenhagen, Denmark.  Select has introduced every major innovation in the modern soccer ball:  the world's first laceless soccer ball (1951); the world's first 32 panel soccer ball (1962); the world's first water-resistant soccer ball (1965); the world's first hand-sewn PU soccer ball (1974); and the world's first intelligent soccer ball (2012).  
Lars Nielsen, President of Select Sport America, said of the partnership, "We are very excited and grateful to have been chosen as the supplier of the "Official Soccer Ball of the GHSA."  We believe strongly in the quality of our products and services and hope that SELECT soccer balls will contribute in enhancing the game and skills for the GHSA athletes."
Select Sport America, which services all of the US and Canada, has been corporately based with their warehouse and offices in Alpharetta, GA since 2002.  
All Select Sport soccer balls are made with the players' needs in mind.  Select Sport – Player's Choice. Learn more at http://www.selectsportamerica.com.