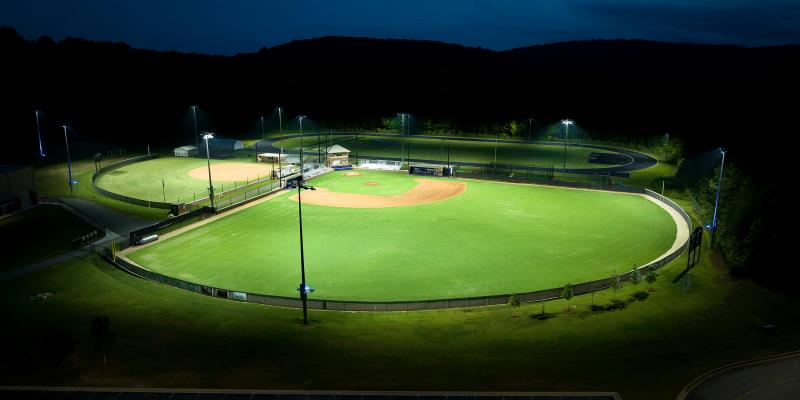 Lumpkin County High School (LCHS) is bringing new life to game nights with a full suite of entertainment features as part of its LED retrofit system upgrade from Musco Lighting.
The upgrade features TLC for LED® technology installed onto the facility's existing poles, with patented visoring for reduced spill light and glare on LCHS' football, baseball, and softball fields. It also introduces color-changing field and pole accent lighting that can be synced to music with Show-Light® special effects for thrilling light shows.
"The fan experience has been improved immensely," said Lumpkin County Schools Superintendent Dr. Rob Brown. "Any fan—whether they're a huge football fan or not—is going to have a good time with the light shows and the music." See LUMPKIN COUNTY TESTIMONIAL VIDEO
The upgrade came about as LCHS approached its 20th anniversary and the Musco HID systems on its football, baseball, and softball fields had outlived their original 10-year warranty by nearly a decade. With the LED retrofit, LCHS gains the same dependable warranty—and even greater system reliability.
"Everybody can say they have a warranty, but whether they're going to follow through is a different question. We had confidence that Musco would stick to their word and honor their warranty, and that was based on the reputation for quality that Musco has established," said Dr. Brown.
LCHS is just one of many GHSA member organizations—including Bremen High School, Cartersville High School, and Bibb County Schools—to transform game nights with TLC for LED technology from Musco, the Official Lighting Company of GHSA.
You can CLICK HERE to receive your free TLC for LED brochure or contact one of Musco's Georgia Sales Representatives to learn more:  
Contact:
Josiah Smith 
678.428.7700
josiah.smith@musco.com
Rob Staples  
706.870.2177  
rob.staples@musco.com