Team Winners
Center: Champions, Union Grove
Athletes: Austin Garvey, Annie Lunsford, Mitchell Miller, Abby Rigsby; Coach: Warren Varnadoe
Left: Runner Up, North Forsyth
Athletes: Alyson Godwin, Rebecca Godwin, Cameron Houston, Oscar Zavala; Coach: Jack Snook
Right: Third Place, Lumpkin County
Athletes: Mira Grizzle, Heather Johnson, Dakota Spivey, Morgan Tritt; Coach: Ron Fugate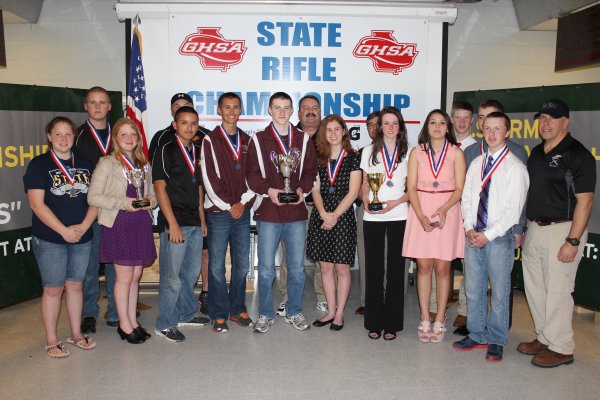 ---
Individual Winners
Center – Gold Medalist Rebecca Godwin of North Forsyth
Left – Silver Medalist Heather Johnson of Lumpkin County
Right – Bronze Medalist Marissa Furney of Columbus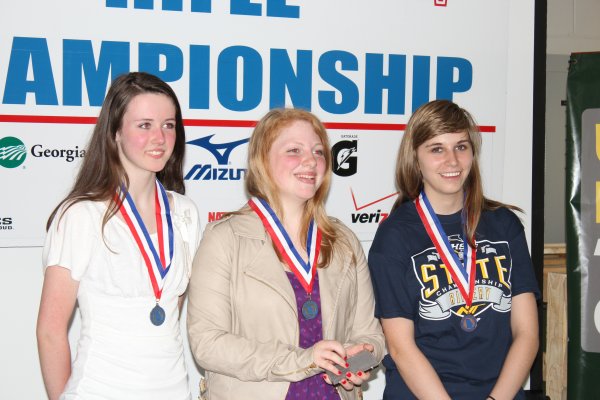 ---
TEAMS
1
Union Grove
1145
2
North Forsyth
1140
3
Lumpkin County
1140
2nd & 3rd place teams tied at 1140 and tie breaker was required. North Forsyth won the tie based upon most "inner 10s" (59 to 51).
Last year the 1st two teams tied & inner 10s placed Lumpkin County as the Champions over Madison County 46 to 45.
1. Union Grove, 1145: This was 3rd Championship GHSASC for Union Grove. Also won in 2008 & 2009. In 2008 they tied the existing state record of 1160.
2. North Forsyth, 1140: 1st GHSA trophy for North Forsyth, finished 13th in 2012.
3. Lumpkin County, 1140: Defending champions from 2012. Score wise did better than last year. Their 3rd place score this year was 10 points higher than their winning score was last year.
INDIVIDUALS
1
Rebecca Godwin, North Forsyth
393.1
2
Heather Johnson, Lumpkin County
391.5
3
Marissa Furney, Columbus
391.4
Only 0.1 between Silver & Bronze medalists.
Godwin was the 1st individual medalist ever for North Forsyth HS. She also placed 4th last month in National JROTC Championship.
Bronze (Furney) was the 1st individual medalist ever for Columbus. She won National JROTC Championship last month.