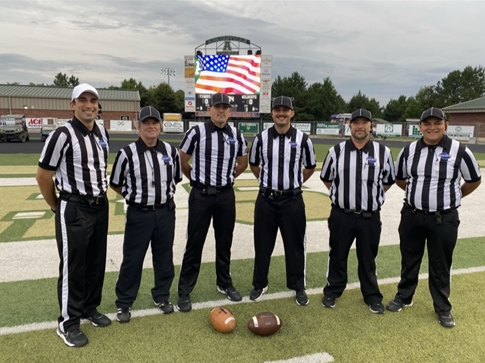 Pictured (left to right): From the Etowah Valley Football Association - Trevor Gonzales, Darrel Johnson, Tyler Gonzales, Austin Schriver, Scott Richey, and Alan Arevalo, (not pictured: Jody Gonzalez retired).
Jody Gonzales has officiated football for the GHSA for over 30 years. He has multiple state championship games under his belt under numerous positions at wing, deep, and most notably umpire. He also officiated basketball for over 25 years. He now does volleyball, baseball, and softball. Jody has retired from officiating football, but he still helps out every now and then during the season when there are shortages in the area. He enjoys watching his sons, Tyler and Trevor, follow the same profession.
Trevor Gonzales is in his ninth year of officiating football for the GHSA. He grew up on the sidelines as a child watching his father, Jody, officiate high school football. When he was eight years old, he started charting penalties on the sideline for his father's crew. At the age of fifteen, he started officiating Rec league and middle school games, eventually officiating his first Friday night game when he was seventeen years old. After officiating in the state championship games in 2021 and 2022 as a deep judge, Trevor decided to take on the challenge of becoming a white hat for the 2023 season. He looks to continuously improve as an official with the goal of one day officiating at the Division I college football level and the NFL.
Tyler Gonzales is in his eighth year officiating football for the GHSA. He followed in his father's footsteps, with persuasion from his little brother, Trevor. He has developed a deep love and passion for the sport and officiating. Growing up, Tyler's father would take him and his little brother to a Friday night game to watch football and understand the officiating aspect of it. He has had multiple playoff runs including making it to the state championship games in 2020, 2021, and in 2022 as a deep judge. This year, Tyler joined his brother Trevor's crew as an umpire. He has embraced and overcame all the challenges it takes to become an official. He is thankful to his wife for letting him be out of town on Friday nights in order to pursue a dream of becoming a college football official.
Alan Arevalo is in his fifth year of officiating high school football for the GHSA. After he graduated from Kell High school, he found an officiating application on Twitter and gave it a shot. He was a member of the band in high school and has always loved the Friday night atmosphere. Officiating brings him back to that atmosphere and he has enjoyed every minute of it.
Austin Schriver is a second year official for the GHSA. After playing football at Starr's Mill High School and his collegiate football career at Berry College, Austin still wanted to be around the game he has played his whole life. He decided to officiate to continue learning and enjoying the game and atmosphere.
Scott Richey has been officiating football for the GHSA for the last 20 years. The 46 year-old runs Line Judge and started officiating at the age of 26 after playing high school football in Texas.
Darrel Johnson has been officiating football since 2000. He is in his 23rd year of officiating for the GHSA. The late well renowned official Earl Wilkerson got Darrel interested in calling football. He has always enjoyed the game of football, striving to do his best each night out on the field.