Larry Lee Pendergrass, age 83, passed away peacefully in his sleep early in the morning of Sunday, May 14, 2023, at his home near Atlanta, Georgia. The Georgia High School Association remembers his dedication to and tremendous impact on the State Riflery Championships. Major Pendergrass began his service to GHSA as an Area Chair from 1993-1997. He ran the state meet as Championship Director from 1998-2012 and served as overall State Riflery Coordinator from 2003-2019.
Upon graduation from Southwest Missouri State College (today's Missouri State University) with a bachelors degree in mathematics, Pendergrass was commissioned as a 2nd Lieutenant on August 1, 1961. His military career took him around the world, including a tour of Vietnam in 1967-68, where he served as a commander and staff officer. After 20 years of service, he retired from Active Duty as a Major on October 1, 1982. He earned multiple awards, including two Bronze Stars, two Meritorious Service Medals, four Army Commendation Medals, a National Defense Service Medal, and a Vietnam Service Medal with a silver star (5 campaigns).
Making Atlanta the permanent home for his family, Pendergrass then led JROTC programs in Fulton County high schools. At Creekside High School, he coached the rifle team to five consecutive Georgia State High School Championships. He was named the sport's Coach of the Year for Georgia eight times.
After retiring from teaching and coaching in 2002, Larry served for a decade as both Georgia High School Association's Riffle Coordinator and State Championship Match Director. During that time, air rifle expanded rapidly across the state, and Georgia became widely known as the sport's top state nationally. After being invited to be part of the shooting staff for the 1996 Olympics in Atlanta, Larry rose to become a highly respected officiator at both the national and international levels. He served as Chief Range Officer for the NCAA Championships from 2011 through 2019. He officiated trials and finals for multiple World Cups, as well at the Olympics in Atlanta, Rio de Janeiro and Beijing.
Larry is survived by Pat, his wife of 62 years, and three children: son Paul and his wife Margaret; daughter Pam (Pendergrass) Kunz and her husband Donald Kunz and son Nathan; and daughter Paige (Pendergrass) Hill and her husband Richard Hill, Jr, daughter Taylor Anne Hill and son Richard Hill III. Visitation will be held Thursday, May 18 from 5:00-7:00 pm at Scot Ward Funeral Home, 699 American Legion Rd., Conyers GA 30012. The funeral service will be held Friday, May 19, at 11:00 am at Heritage Hills Baptist Church, 2987 Hwy. 212, Conyers GA 30094, with visitation preceding at 10am.
Condolences may be submitted on-line at www.scotward.com. Scot Ward Funeral Services, 699 American Legion Road, Conyers, GA 30012, 770-483-7216.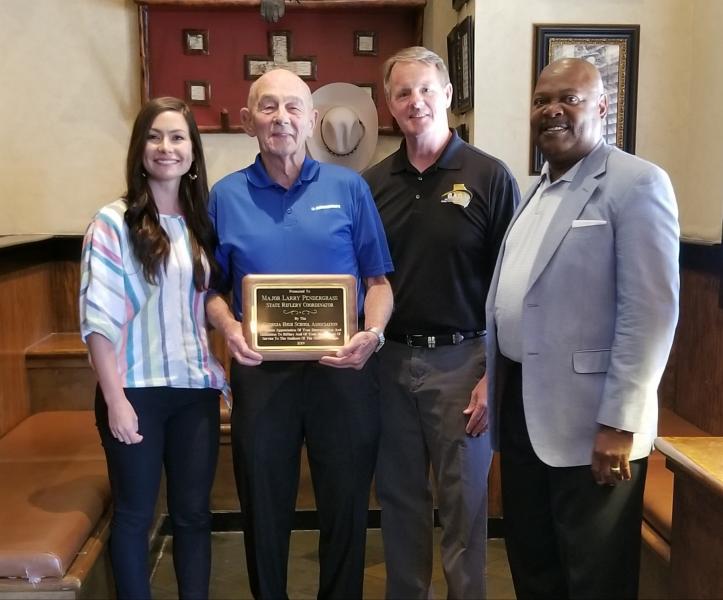 Major Pendergrass (second from left) at his retirement with GHSA staff (l-r) Stacey Jones, Robin Hines and Carror Wright