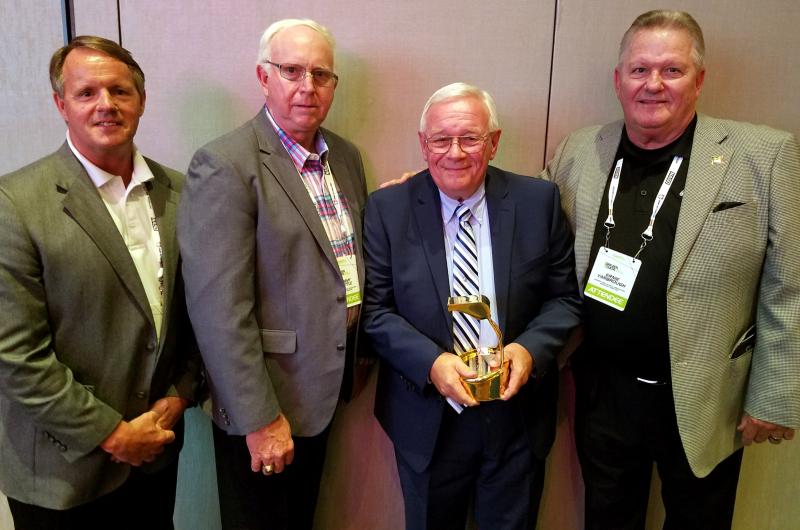 Pictured above (L-R): Robin Hines, Tommy Whittle, Ralph Swearngin and Ernie Yarbrough
Former Georgia High School Association Executive Director Ralph Swearngin was honored by the National Association of Sports Officials (NASO) as the recipient of this year's Gold Whistle Award. The award, which is officiating's highest honor, was presented Tuesday, Aug. 1, in Louisville, Ky., during the Celebrate Officiating Gala, which wraped up the 2017 Sports Officiating Summit.
"He was such an easy and unanimous choice for the awards committee and for approval by the NASO board," said NASO President Barry Mano. "He exemplifies each criteria we have set for receiving the Gold Whistle."
Before retiring in 2014, Swearngin was with the GHSA for 22 years, the last 12 as executive director. He served in many roles for the NFHS, including a term on that body's board of directors and the hall of fame screening committee. He was a longtime member of the football rules committee and was a past chair of the softball rules committee. He was also a board member for the American Association of Adapted Sport Programs.
A retired football official, Swearngin has dedicated his life to the betterment of officials and officiating. He is the author of The Inner Game Of Officiating: It's All About You, which provides necessary insight guaranteed to help any official succeed and achieve their goals.
"His work on behalf of high school officials as the executive director of the Georgia High School Association was as a beacon for all high school associations," Mano said. "His work on behalf of all of us in officiating, including the four years served as a member of the NASO board, put an exclamation mark on his career of promoting, nurturing and paying attention to the needs of officials.
The Gold Whistle Award is presented annually by NASO. Those considered are individuals or groups that have made significant contributions to the betterment of officiating, exhibit a high degree of integrity and ethics and other qualities that are held in high regard by the industry. Candidates must have a consistent record of presenting officiating in a positive light as well as exhibiting a "service above self" attitude. Public service to officiating, having a motivating effect on others and/or strong community involvement are considered.
Past 'Gold Whistle' Winners
1988 — Art McNally
1989 — Ed Myer (deceased)
1990 — Pete Pavia (deceased)
1991 — Larry Barnett
1992 — Jim Tunney
1993 — Steve Palermo
1994 — Ron Asselstine
1995 — Ed Hightower
1996 — Bernie Saggau
1997 — Ted Butcher (deceased)
1998 — Durwood Merrill (deceased)
1999 — Tommy Nunez
2000 — Tom Dooley
2001 — Paul Stewart
2002 — Larry Young
2003 — Bob Delaney 
2004 — Bob McElwee 
2005 — John W. Keys (deceased)
2006 — Blow the Whistle on Cancer Campaign
2007 — Jerry Markbreit
2008 — Marcy Weston
2009 — Mills Lane
2010 — Emily Alexander
2011 — Esse Baharmast
2012 — Terry Gregson
2013 — Bill LeMonnier
2014 — Joe Crawford
2015 — Marcia Alterman
2016 — Ron Foxcroft