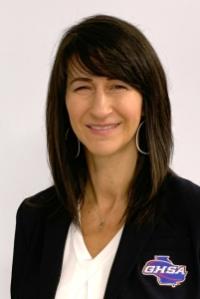 Tanya began at the GHSA in April, 1995 after working for several years in banking. In her years with the GHSA, she has worked under four Executive Directors and experienced many changes and updates in the GHSA office.
Tanya's responsibilities include coordinating Cross Country, Track and Field, Esports, Literary and One Act Play. In addition, she works with sanctioning events statewide and nationally, and serves as the DragonFly liaison for schools.
Tanya attended private schools before graduating from Upson High School. After graduation, she received a Bachelor of Science in Business Administration from Columbus State University, attending night classes while working at GHSA.
Tanya and her husband, Mike, have one daughter, Ashlynn, who is a student at UGA. Tanya's personal interests include exercising, reading and outdoor activities.
.